Port of Gävle is a logistical hub where major railways, waterways and roads meet. Cargo passes over the quay and the Port Activity App™ lets you view vessel information in real time, directly on your phone or tablet.
Port Activity App™ is a digital solution used by port operators in Gävle to exchange real-time information prior to and during a vessel's call. The app is aimed to improve the efficiency of the application process by improving the flow of information for port operators and thereby increasing the competitiveness of maritime transport.
Time Slot Gävle, queuing system for quay 27
The queuing system aims to give the actors a better planning horizon and thereby increased conditions for fuel savings and reduced emissions during the sea voyage to Gävle.
Rules for the queuing system can be found in the Port rules and in the Operating instructions, energy port. 
Instructions for applying for a queue place can be found here. 
For support, contact the Port Traffic Office,
telephone: +46 26 17 88 66,or via e-mail: trafik@gavlehamn.se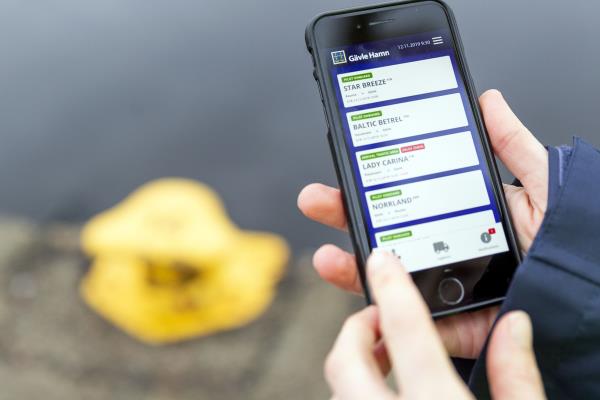 New users enter access code: BMRCYM-652041
See which vessels are about to call at or depart from the Port of Gävle.
Ship name
Arrival / Departure
Berth
Status
JUDITH

2023-06-09 07:00

/

2023-06-10 04:15

Containerkajen 25

done

LURO

2023-06-09 16:26

/

2023-06-10 03:53

105 Bulk kajen

done

WILSON JUPITER

2023-06-10 09:00

/

2023-06-12 16:00

Sydvästra kajen 5

Arriving

DALSLAND

2023-06-12 09:00

/

2023-06-13 01:00

Arriving

NORDIC CRYSTAL

2023-06-12 19:00

/

2023-06-13 18:00

Arriving

CALISTO

2023-06-13 07:00

/

2023-06-13 23:59

Containerkajen 25

Arriving

JUTLAND

2023-06-13 20:00

/

2023-06-14 12:00

Arriving

MSC JOY

2023-06-14 08:00

/

2023-06-15 23:59

Containerkajen 25

Arriving

DUTCH AQUAMARINE

2023-06-14 12:00

/

2023-06-14 19:00

Arriving

Sea senor

2023-06-15 06:00

/

2023-06-17 06:54

Energikajen 27

Arriving

Silver Carolyn

2023-06-17 14:00

/

2023-06-19 14:00

Energikajen 27

Arriving

LATANA

2023-06-18 07:00

/

2023-06-19 10:00

Kemikaliekajen 1

Arriving
Port of Gävle is showcased in several different contexts as a port that is a strategically important port for the nation and is part of the TEN-T network. Access to the port is exceptionally good, with connections to international highways and national motorways. All the terminals in the port are connected by rail and connect directly to the Ostkust railway line (Ostkustbanan), the Bergslagen railway line (Bergslagsbanan), and the Northern Main railway line (Norra Stambanan). Together with the Swedish Transport Administration, a major investment was made in the fairway in 2014, which included the widening and deepening of the channel into the port. Following the increase in capacity, vessels that are 42 metres wide, with a draught of 12.2 metres and a load capacity of approximately 100,000 tons, can call at the port of Gävle. A great advantage of receiving larger vessels is that the transport costs for the industry in the region are reduced, which increases competitiveness. Another advantage is that larger vessels also benefit the environment by radically reducing the fuel consumption of vessels per ton transported. The upgraded channel also allows for vessels to enter the port in the dark and with poorer visibility than before.
The world's large container shipping companies pass through Port of Gävle – some on their own keel and others on commercial feeders. The container terminal is operated by feeder vessels in liner service. These vessels transport containers to and from major European ports. There they are reloaded to their final destination in the world.
Port of Gävle is within two hours of Stockholm. First-class rail connections make it easy for cargo owners throughout Sweden to export and import via Port of Gävle. A rail runs between Port of Gävle's container terminal and the Stockholm Nord Rosersberg combi terminal, north of Stockholm. Export goods from the Mälardal region reach the combi terminal in Rosersberg so that they can be transported up to Port of Gävle using environmentally friendly transport methods and then be shipped onward with maritime transport, for example. In return, the shuttle takes back goods such as import goods that have arrived by sea, rail or road. The goods are transported down to Stockholm Nord Rosersberg for further transport to their final destination. From the Port of Gävle, a rail shuttle also runs continuously to Brista near Arlanda airport to supply aviation fuel.
The road and rail infrastructure to and from the port is very good and a prerequisite for the efficient flow of goods. Road links are available to the nearby E4, E16 highways, and other national motorways. Thousands of lorries pass through the Port of Gävle each year Many hauling companies have continuous flows and arrive at the Port of Gävle daily with different types of goods. Examples of frequent transport connections are Garpenberg-Port of Gävle, Skutskär-Port of Gävle, Fors-Port of Gävle, Sandviken-Port of Gävle, Grycksbo-Port of Gävle and Ljusne-Port of Gävle.