Vessels are unloading and loading at Port of Gävle's six terminals 24 hours a day. There is constant activity all year round.
Port rules and regulations
All documents that contain information about the rules, restrictions, conditions and procedures for the port area are gathered here. The information is aimed at the stakeholders operating under maritime, road and rail transportation law, but also at others who, for example, will be visiting a company that is set up in the port area. At Port of Gävle safety is a focus area and it is important that those who are going to pay a visit to the port, review the rules in advance.
Information on notification requirements, tugboat rules and regulations regarding mooring/shifting berths, etc can be found in the Port Rules document.
Onshore Power supply to vessels
The possibility for vessels to connect to Onshore Power Supply is continuously developed for the quays in Port of Gävle. During 2023, test connection of Onshore Power Supply will be carried out for vessels on the quays 16 and 27. Information of rules and technical conditions will be published on an ongoing basis on Port of Gävle's website. Please see Port of Gävle's port rules 15§. 
Find out more about Onshore Power Supply (OPS) here: 
OPS Energy pier (quay 27)
OPS Loading quay for ore (quay 16)
Applications and notifications
Documents and forms that are linked to different types of applications and notifications will be found below.
Related documents and links
Prenotification of delivery of waste
According to new waste legislation (implementation of EU directives) valid from 2023-05-01, vessels must pre-notify the need to leave waste in port separated according to MARPOL.

For a correct waste notification to the Port of Gävle and basis information for the waste delivery receipt, a pre-filled receipt must be notified/emailed to  no later than 24 hours before arrival.

The vessel or its representative is responsible for completing sections 2 and 3 of the receipt. Port of Gävle supplements information in section 1.
The information on waste quantities in section 3 may be corrected by Port of Gävle if the amount of waste upon inspection is deemed not to correspond with the pre-filled information.
When making a pre-notification of the delivery of waste, the notifier must state in the email to :
Which terminal/ berth to be used.
Time and date the waste is to be left.


The ship crew is responsible for leaving the waste at the applicable terminal's waste room.
The waste rooms are available 24 hours a day.
(The waste rooms are locked and access is given after a correct waste notification has been received).
Hazardous work and processes
In the port area, there are a number of facilities where large amounts of chemicals are handled. According to the "Law on measures to prevent and limit the consequences of serious chemical accidents" (SFS 1999:381), the municipality must inform those persons at risk of being affected in the event of an accident. The information is presented in a swedish folder, "Om larmet går" ("If the alarm is set off"), that you can download here. The folder can also be found on the web pages for Gävle Municipality and Gästrike fire department . In addition, the fire department sends the folder out to people living in the immediate area. For information in English, please contact the Port Traffic Office.
With an annual handling of more than 250,000 TEU*, Port of Gävle has the largest container terminal on the east coast of Sweden. Feeder ships are unloaded and loaded, taking containers to and from major ports in Europe, where they are reloaded en route to their final destinations throughout the world. The operational activities are managed by terminal operator Yilport Gävle.
In May 2022, a completely new container terminal opened and has increased the capacity to 600,000 TEU. Port of Gävle and Yilport Gävle have co-invested to meet the increasing demand for maritime transports in the form of container transports.
The world's large container shipping companies are operating in the port and the container port can now accommodate more and larger ships. At the same time, opportunities are created for more business facilities close to the port. There is also plenty of room for storage and warehouses. The new capacity enables more companies to avoid the traffic congestion in the Mälardal region and quickly move north via both rail and road. A train shuttle runs between Port of Gävle's container terminal and the Stockholm Nord Rosersberg combi terminal, north of Stockholm.
Export goods from the Mälardal region (Västmanland, Södermanland, Närke and Uppland) reach the combi terminal in Rosersberg so that they can be transported up to the Port of Gävle using environmentally friendly transport and then be shipped onwards with maritime transport, for example. In return, the shuttle train takes goods, such as import goods that have arrived by sea, rail or road, down to Stockholm Nord Rosersberg for further transport to their final destination.
*TEU is a measure of how many containers are handled, with 1 TEU=20 feet, or 6.1 metres. A 40 foot container corresponds to 2 TEU and 12.2 meters.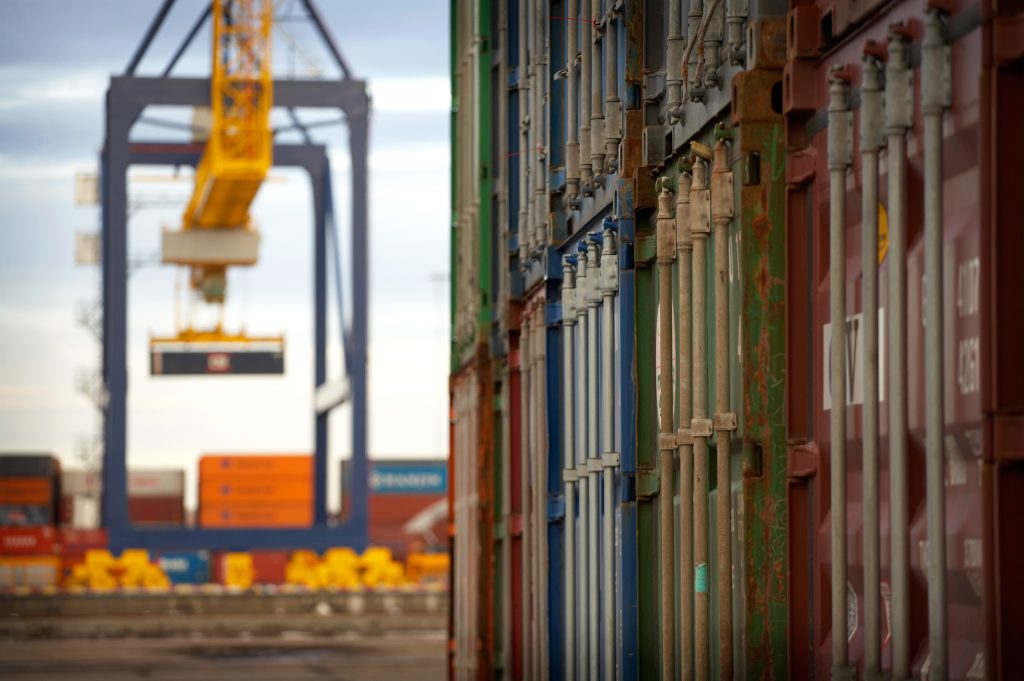 At Port of Gävle's bulk terminal*, materials and supplies to the primary industry is handled (e.g. clay, alloys, scrap metals, dressed ore and biofuels). Also project loads are handled here, where the requirements for lifting capacity and temporary storage areas are high (e.g. modular housing and wind turbines). The bulk terminal consists of four quay sections where different types of ships are loaded and unloaded. A number of large warehouses are directly connected to the quays, which provides the opportunity to store stock. There are also large quay areas for intermediate storage of goods. The business operations are managed by Yilport Gävle.
*A bulk terminal handles goods not loaded in a carrier, (for example, a container or trailer).
East quay
South quay
South-west quay
Loading quay for lead and zinc concentrate
East quay
The east quay handles, among other things, scrap, sawn timber, pulp, ferrous alloys, kaolin clay and project loads.
South quay
South-west quay
Loading quay for lead and zinc concentrate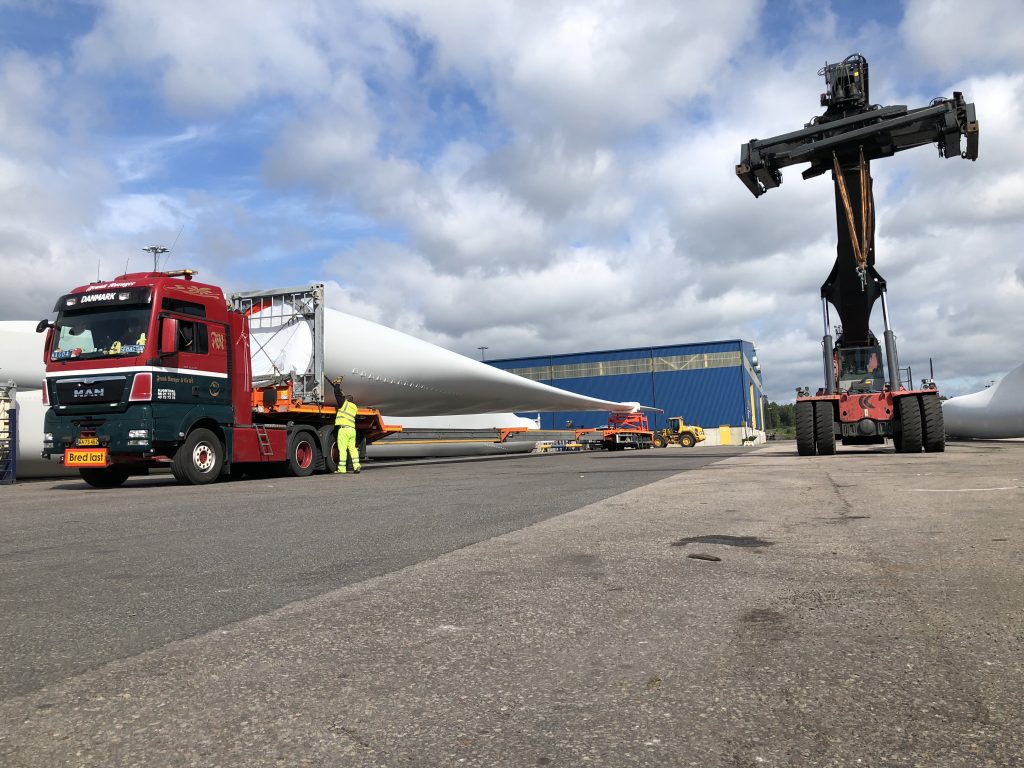 The Combi terminal* is integrated with the container terminal, close to storage areas and quays. It offers complete solutions for combined traffic management such as lifting, switching, storage and stuffing/stripping. The business operations are managed by Yilport Gävle. In addition, there is another combi terminal at Fredriksskans. There you can find a pre-prepared processing area of 50,000 m2, with two full length tracks of 500 metres each.
*A combi terminal refers to a series of railway tracks where freight trains with goods arrive to drop off or pick up goods. In the combined terminal, the trains meet road transports for reloading from one mode to the other.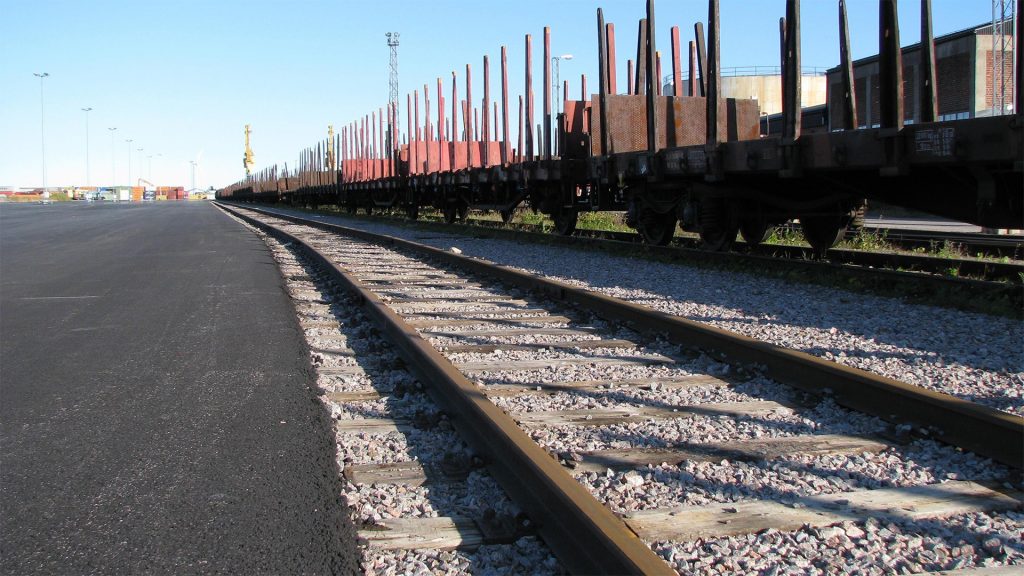 Energy port (chemical and oil terminals)
The Energy Port is one of Sweden's largest and the major fuel, chemical and storage companies are represented here. The Energy Port supplies Stockholm Arlanda Airport with all jet fuel it needs through a shuttle train. The Energy port mainly handles the following bulk liquids: sulphuric acid (vitriol oil), sodium hydroxide (also known as caustic soda or as an aqueous solution for lye), clay slurry (slurry is a mixture of fine, solid particles and water, i.e. a wet mixture of different materials), MTBE (octane-raising component of motor petrol), petrol, diesel, fuel oil, ethanol, vegetable oils, hydrotreated vegetable oil (HVO) and jet fuel. A common pipline system connects the various depots with the quays. The pipeline system from the quays up to the respective fuel depot is owned and maintained by Gävle Hamn AB. There are plenty of spaces for logistics solutions and storing stock at the Energy Port.
Storage volume: Approximately 850,000 cubic metres, spread over approximately 150 tanks, and six underground rock chambers with a total storage volume of approximately 750,000 cubic metres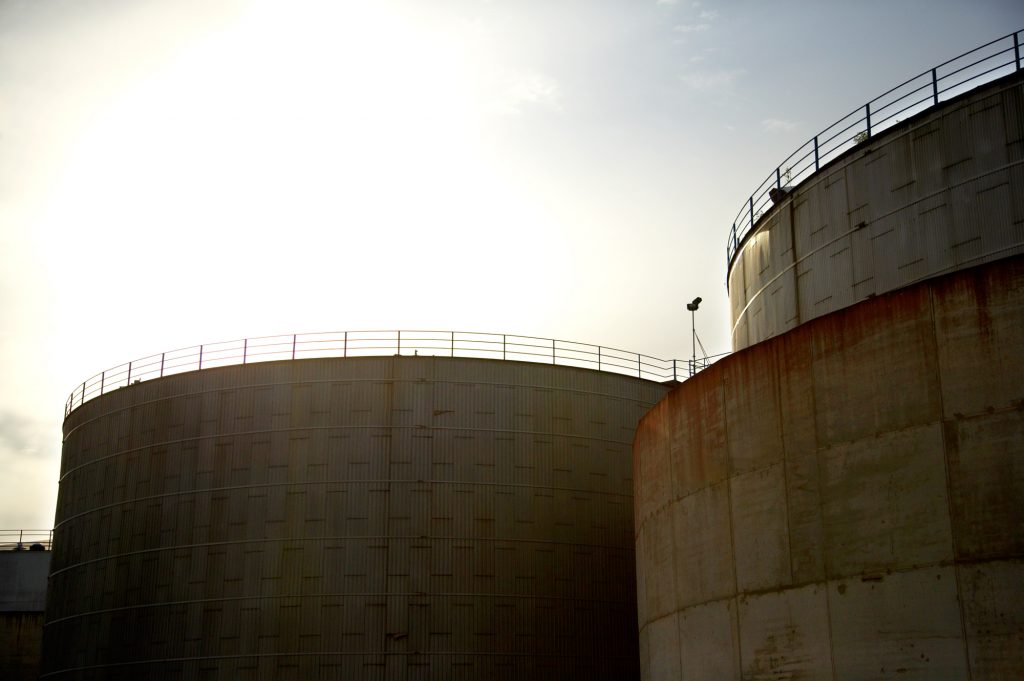 Container Freight Station (CFS) Granudden primarily handles paper products in five large 60 000 square metre warehouses. Here you will find both indoor rail and stuffing stations for loading (filling) containers. About 20,000 containers are loaded with paper here each year. The business operations are managed by Yilport Gävle. From CFS Granudden, trains loaded with containers depart daily to the container terminal for further transportation by feeder ship.